Summer is a season of heavy rain. At this time, the vegetables in Daejeon are often subjected to heavy rain and the quality is reduced and the yield is reduced. This may cause the seeds that have just been sowed to be washed away, and the young plants are exposed to the roots after rain, and they are exposed to sun and wilting. Therefore, before and after the rainstorm, it is necessary to strengthen field management and reduce losses.
First, for the newly planted vegetables, cover them with grasshoppers, straw, shading nets and other coverings in time after sowing. This will not only cover the shadows, prevent the seeds from falling, but also effectively reduce the erosion of heavy rain.
Second, strengthen the cultivating loose soil, spread the grass ash, spray the soil surface with the new high-fat film 600~800 times liquid, can protect the water-proof evaporation, sun-proof and drought-resistant, heat preservation and anti-freezing, anti-soil layering, suffocation and isolation of pests and diseases, promote Vegetables grow vigorously and prevent diseases from occurring, all of which have good effects.
Third, clean up the vegetable fields after heavy rain and disinfect the soil. The floating objects in the flood are polluted to varying degrees. It is necessary to clean them out of the vegetable fields in time, and at the same time clean the dead vegetables. When ploughing the land or cultivating, use the tree general to carry out soil disinfection.
Fourth, timely replanting and replanting other vegetable crops. Land that has been damaged by floods should be replanted as soon as possible, and timely replanting white, celery and mid-late cooked cabbage, cauliflower, Chinese cabbage, sowing vegetables, mustard, mustard, winter vegetables, wintering cauliflower, late maturity Winter lettuce and other vegetable varieties; spray new high-fat film in time after sowing, can protect the water-proof evaporation, sun-proof and drought-resistant, heat preservation and anti-freezing, anti-soil layering, suffocation and isolation of pests and diseases, improve the emergence rate, and strive to bring lyrics The loss is minimized.
Fifth, strengthen field management and restore vegetable growth. Firstly, after rooting, the root activity of vegetables is seriously reduced, and the absorption capacity is weakened. At the same time, the nutrients are easily lost after being flooded. The combination of ploughing and timely application of nitrogen, phosphorus, potassium fertilizer and other micro-fertilizers should be paid attention to, but should not be biased and excessive. Application: Before the normal growth of the less ill vegetables, the quick-acting fertilizer can not be applied, but combined with disease prevention, spray 2~3 times of potassium dihydrogen phosphate foliar fertilizer, and wait until the vegetables return to normal growth, timely cultivating and topdressing. Fertilization combined with the use of photosynthetic nutrient film fertilizer (light fertilizer) to enhance photosynthesis to produce nutrients and chlorophyll. The high-grade environmentally-friendly light fertilizer is a compound membrane that makes plants increase fertilizer, increase yield, increase color, thicken leaves and strong stems. It can help plants absorb a lot of light fertilizer, light energy, light, compatible with conventional fertilizers and nutrients to supply plant growth and development to the limit. One-year benefits for one application.
Sixth, improve the immunity of vegetables and enhance disease resistance. All kinds of autumn vegetables should pay attention to the prevention and treatment of rickets and blight, autumn melons and fruits should pay attention to the prevention and treatment of viral diseases, and beans should pay attention to the prevention and control of rust. Plant cell immune factors should be used in time to enhance plant stress resistance and to cause viral DNA to break and apoptosis. Strong immune function, induce interferon and active interleukin, inhibit residual virus replication, and promote positive energy ecological growth of plants. Control the plant physiological diseases and invasive diseases by the host plant resistance mechanism and the principle of pathogenic toxicity variation.
Total 1
| <First
<Prev
1
Next>
Last> |
share to:
Factory Supply Casing cement head (Cementing head)

1) ISO certificated
2) Specification: 5 1/2" to 13 3/8"
3) Thread Connection: LTC, STC, BTC

Description:
Cement head is a device fitted to the top joint of a casing string to hold a cement plug before it is pumped down the casing during the cementing operation. In most operations, a bottom plug is launched before the spacer of cement slurry. The top plug is released form the cement head after the spacer fluid. Most cement heads can hold both the top and bottom plugs. A manifold incorporated into the cement head assembly allows connection of a fluid circulation line.

Characteristics:
1. Compact, easy to connect
2. Indicator monitoring stopper running
3. Body and short sleeve button connected by ladders
4. High strength materials and high thread to ensure it meets quality and performance requirements
5. Manifold connections, as required by the selection union.
Specifications, (in)
5½"
6 5/8"
7"
7 5/8"
9 5/8"
10¾"
13 3/8"
Overall Length, mm
1460
1500
1500
1550
1750
1750
1780
Manifold
2"Union
I.D. of Plug Container, mm
Φ125
Φ150
Φ160
Φ175
Φ225
Φ250
Φ320
Length of Plug Container, mm
400
450
450
450
550
550
600
Working Pressure, MPa
35,50
35,50
35,50
35,50
35,50




35

35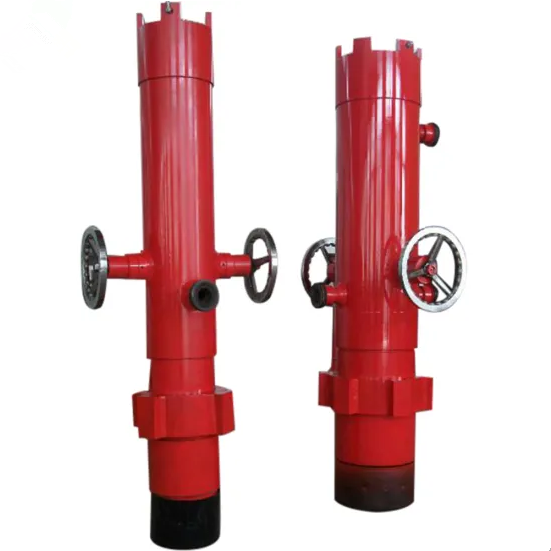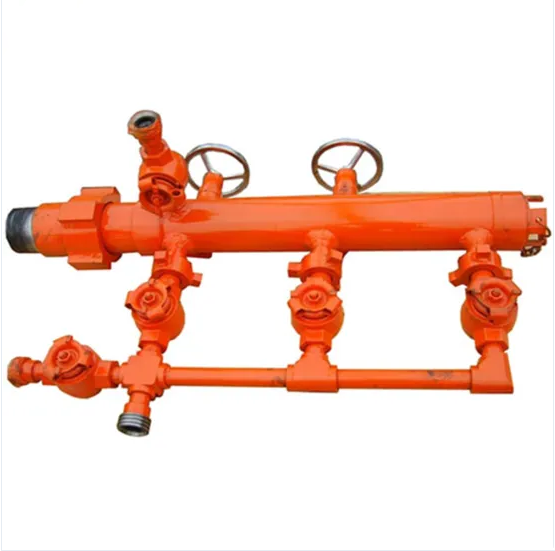 Drill Pipe Cementing Head,Cement Head Tools,API Equipment Machinery,Energy Cement Tools
Puyang Junhong Rubber Co., Ltd. , https://www.pyjhxs.com